The Performer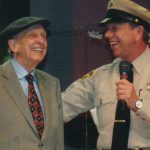 "The Mayberry Deputy, and "Ebenezer Scrooge" are just two of the aliases of David Browning from Bristol, Virginia. As an impersonator, improvisational master and speaker, Browning uses costuming, gestures, facial expressions, and audience participation to bring out the flavor of the characters and to provide an atmosphere of good, clean fun. He provides a bit of Americana which is worth preserving and celebrating.
"The Mayberry Deputy" is the most noted of his characters and started in 1989 when a friend of
Browning hired The Dillard's, known to watchers of "The Andy Griffith Show" as the "Darling boys", to play bluegrass music in Bristol, Tennessee.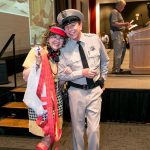 Browning, who started out in community theatre, put together a "Barney Fife" type act based on a sense of recall (since Browning has seen all the Mayberry shows at one time or another) which made that first performance a hit. At that time, he discovered that he could make a statement as David Browning that was not funny at all but the same statement made in uniform as "The Mayberry Deputy" had audiences falling out of their seats.
Soon after, "The Andy Griffith Show" Rerun Watchers Club (TAGSRWC) asked Browning to perform at a Mayberry Reunion held at Opryland in Nashville, Tennessee. TAGSRWC founder, Jim Clark, saw Browning's act and began mentioning his name across the country. Browning has been embraced as "The Mayberry Deputy" by small and large groups in thirty-five states with continued referrals and requests everywhere he goes.
Browning traveled to Nashville to appear in Confederate Railroad's video, "Elvis & Andy." He feels that video is as good to an actor as a book is to an author. Browning has also appeared with many of the original stars of "The Andy Griffith Show." Another connection to country music is Browning appearance at the "60 million Sales Party" thrown for music's all-time sales leader, Garth Brooks.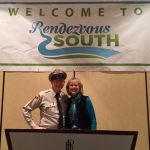 At an international event, an officer from Scotland remarked, "I'd never seen "The Andy Griffith Show" but I still had tears of laughter rolling down my cheeks…this was a wonderful way to have fun & fellowship and build a feeling of togetherness – through shared experience."
People are entertained and enlightened by the Mayberry Deputy character because it reminds them of a time gone by. "We live in a world where people are searching for their own Mayberry," Browning says. "I value this character for what it gives people today…. a laugh, a lift and memories."